'Attack on London is inevitable'
Rosie Cowan, crime correspondent
Wednesday March 17, 2004
The Guardian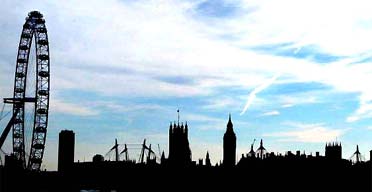 A view of London's skyline from Waterloo bridge. Photograph: Martin Godwin
London's police chief warned yesterday of the ever-widening terrorist threat to the capital, stressing that bombers could strike not just on the rail or tube network but virtually anywhere - pubs, nightclubs, buses or roads.
Sir John Stevens, the Metropolitan police commissioner, described the huge security effort, with hundreds of officers working at full stretch to try to prevent an atrocity.
Sir John and the city's mayor, Ken Livingstone, pledged to do everything in their power to protect the public, but they urged Londoners to be on their guard, stressing that community vigilance was the best weapon against terrorism.
Sir John agreed with Mr Livingstone, who said: "It would be miraculous if, with all the terrorist resources arranged against us, terrorists did not get through, and given that some are prepared to give their own lives, it would be inconceivable that someone does not get through to London."
The threat has not worsened since the Madrid bombings - the UK has stepped up security since the September 11 attacks on the US in 2001 and has been on the second highest state of alert, severe general, since November.
The Met has increased its counter-terrorism officers by 680 in the past two years and intends to take on another 100 this year. Sir John said they were working "flat out".
The Spanish atrocity has brought everything into sharp focus. Plain clothes officers are patrolling the tube and other trains. But the commissioner said entertainment venues, buses and roads are all at risk, and people should report any suspicious objects.
"This is not just about the railways, the underground," he said. "It's about buses, roads, pubs, nightclubs and the like. Remember al-Qaida attacked a nightclub in Bali."
All kinds of overt and covert policing operations are being carried out and Sir John also revealed that security had been tightened along the Thames. The river would be another route to terrorist targets such as the Houses of Par liament, where bollards have been put in place and extra police drafted in to deter suicide bombers approaching by road.
The commissioner would not reveal details of specific plots police have foiled in recent months, but said al-Qaida was still active in London and elsewhere in the UK. Police have arrested 520 terrorist suspects since September 11 [2001], of whom half have been charged and 90 are due in court soon.
Sir John and Mr Livingstone claimed London was one of the safest cities in the world and everything possible was being done to ensure it remained so. Mr Livingstone invoked the spirit of the blitz as he insisted the terror threat must not deflect Londoners from going about their everyday business, while Sir John insisted people should "be alert, but not alarmed".
But it is clear both accept the threat is very serious and there can be no guarantee of safety. "There are people out there who want to take lives, in the hundreds and the thousands," said Mr Livingstone. "These are people who celebrate death. We would be fools to assume we will always be able to stop terrorists."
Sir John said: "As the prime minister and the home secretary have said, there is perhaps an inevitability that some attack will get through. It's my duty to make that difficult, if not impossible."
The mayor has allocated an extra £11m this year for equipment to cope with an atrocity, with another £7m in the coming year to pay for 200 more firefighters, and doubling the emergency response fire units, from five to 10.
Sir John said police were drawing up response plans for various catastrophes and would stage more "dress rehearsals" such as September's exercise at Bank tube station.
Intelligence is key in the fight against terrorism; Sir John likened it to a chess game where the security forces must keep several moves ahead. He said public vigilance was vital. "We, the police and security forces, cannot defeat terrorism on our own. The best weapon against terrorism is the community itself. They must be our eyes and ears."
France was on the alert last night after newspapers received a letter from an Islamist group warning that the country would be "plunged into terror" unless a ban on Muslim children wearing veils in schools was withdrawn. It called the ban a "declaration of war to the Muslim world".
A judicial source said the threat from a group named after a Chechen guerrilla would be taken "very seriously".