ION ENGINES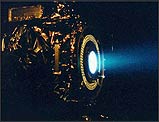 Instead of burning chemical fuels, ion engines are electrically charged and work by ejecting positive ions from the back of the rocket, propelling the spacecraft forwards. The thrust is tiny; in fact it's comparable to the pressure of a piece of paper on your hand. However, the ion engine is extremely efficient, allowing the fuel to last far longer than in conventional rockets, making these spacecraft lighter and cheaper to launch.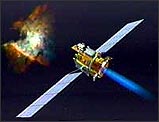 Deep Space 1
Ion engines are already being used in many satellite systems and in 1998 NASA launched a probe called 'Deep Space 1' to test their effectiveness. Due to its increased efficiency, Deep Space 1 has now been in space for longer than all the conventional spacerockets ever made put together.
Speed of spacecraft
Future missions for these ion engine could include comet sample returns, observations of the rings of Saturn and a landing on Jupiter's moon, Europa. Their light mass means that ion powered spacecraft can gradually accelerate to extremely high speeds. For example, if an ion engine was chosen for the forthcoming Rosetta comet mission in 2011, it could rendezvous with Comet Wirtanen and return samples back home in around five years. Conventional rockets would take nine years just to catch the comet, let alone return with the precious bounty.
Other near-term options for deep-space travel are solar sails and nuclear rockets.