Finite and Infinite Games: How to Live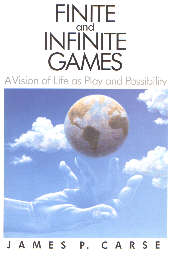 Via Kevin Kellys Cool Tools.
The wisdom held in this brief book now informs most of what I do in life. Its key distinction--that there are two types of games, finite and infinite--resolves my uncertainties about what to do next. Easy: always choose infinite games. The message is appealing because it is deeply cybernetic, yet it's also genuinely mystical. I get an "aha" every time I return to it.
A finite game is played for the purpose of winning, an infinite game for the purpose of continuing the play.
*
Finite players play within boundaries; infinite players play with boundaries.
*
To be prepared against surprise is to be trained. To be prepared for surprise is to be educated.
*
The death of an infinite player is dramatic. It does not mean that the game comes to an end with death; on the contrary, infinite players offer their death as a way of continuing the play. For that reason they do not play for their own life; they live for their own play.
*
I can be powerful only by not playing, by showing that the game is over.
*
Infinite players do not oppose the actions of others, but initiate actions of their own in such a way that others will play by initiating their own.
*
Evil is the termination of infinite play.
*
No one can play a game alone.
*
There is but one infinite game.
Finite and Infinite Games
A Vision of Life as Play and Possibility
James P. Carse
1986, 180 pages
$7
Ballantine Books
Amazon